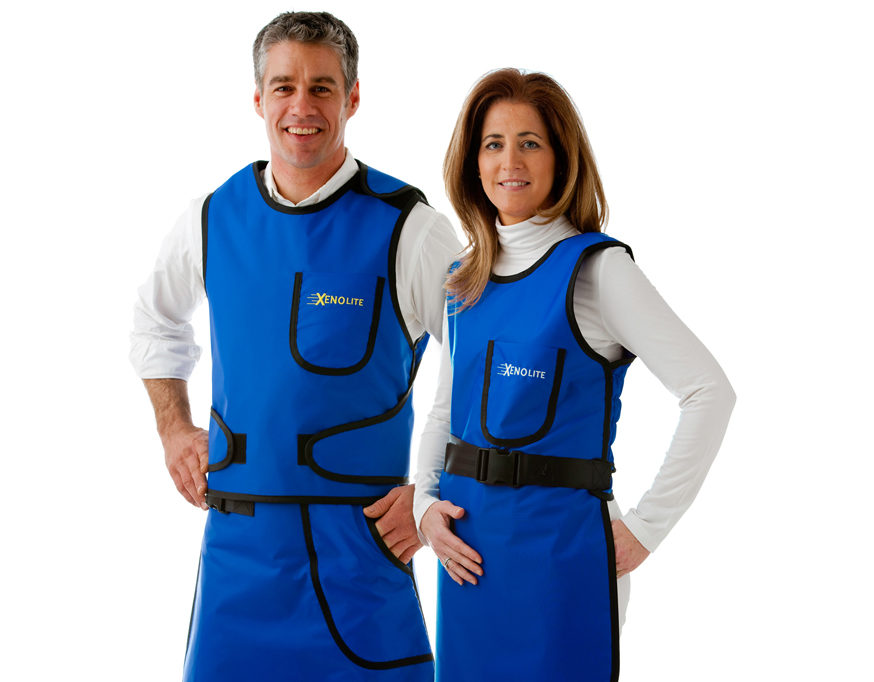 Pocket
You can have your apron or vest with or without a pocket. It can be fabric or plastic covered.
Monogramming
The option of bespoke monogramming is available on all our apron and vests.
Vest & Skirt Sets
Vest/Skirt sizes can be mixed to provide maximum comfort and fit.
Full Wrap Aprons
Full wrap aprons are available with a variety of closure options, including adjustable elastic belts or velcro options.
Xenolite Lead Free Fabric
Xenolite Strata+300 Bi-layer fabric is a lead free, lightweight material featuring bi-layer radiation protection technology compliant with IEC 61331:2014. It is recyclable and safe for non-hazardous disposal.

Features
All orders are custom-made, which means in addition to selecting your gender fit and size, you have the opportunity to personalize your purchase even further. We have size options from XS to XXL and also make adjustments for length. Our male and female sizes have adjustments such as adapted armholes, this ensures the best fit and protection. We can also customise your garment with various optional extras such as pockets, humeral shields and monogramming. We also offer a range of 60 fabric types, colours and patterns and 6 options for trim colour.
Input your initials or name for custom embroidery that makes it easy to keep track of apparel at your office or hospital and gives your team a more professional, on-brand look. Many companies choose to embroider their company name to all new apparel orders for their team as they review their stock to begin building an updated wardrobe.
Personalize your everyday wear
Keep track of unique apparel fits
Monograms will be stitched directly onto the Vest/Apron pocket itself. If a monogram is requested, the garment will require a pocket as the monogram is placed on the Vest or Apron Pocket. Skirts, Thyroids & Leg Shields can also be monogrammed at an additional charge.
An alternative to a 'permanent' monogram is to have a clear plastic pocket (about the size of a credit card) sewn onto the front of the vest, the wearer can then insert their name or their NHS Card into the pocket. This has to be requested at time of order.
Xenolite Strata+ (Lead free)
Xenolite garments are made from lead-free, super-lightweight 2-element bilayer composite. Xenolite Strata+ is recyclable and safe for non-hazardous disposal. Lead-vinyl is 25% heavier.
Standard medical x-ray protection levels available include 0.70, 0.50, 0.35 and 0.25 mm Pb.
Front/back protection is usually in the following combinations: 0.50/0.35, 0.50/0.25, 0.35/0.35, 0.35/0.25 & 0.25/0.25. Please contact your medical physics department for advice on local requirements.
Worldwide, the minimum protection for medical use is 0.25 mm Pb.
In Europe and other countries adopting IEC 61331-3:2014, the "light-duty" is 0.25 mm Pb, "heavy-duty" minimum 0.35 mm Pb (front).
Vest & Skirts
There is 50% of the stated mm Pb in each front panel of the Skirt. To achieve the stated level of protection, the Skirt must be worn fully overlapped (seam to seam.)
Full Overwrap Apron and Vest (325SV/3250)
There is 50% of the stated mm Pb in each front panel of the full overlap Apron. To achieve the stated level of protection, the Apron must be worn fully overlapped.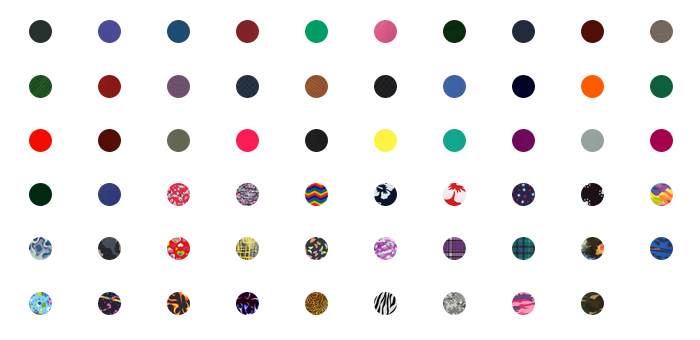 Xenolite Fabric Colour Options

Colours & Fabrics
Blue may be the most common color of X-ray protective apparel, but it's not the only one. Don't shy away from selecting other colors and designs for your aprons, vests and skirts. We have more than fifty solid colors, textured colors and patterns for you to choose from to make X-ray protection more exciting at your healthcare facility. Your custom lead-free apron or lead apron will brighten up your day and make for a better patient experience.
27 patterns
22 solid colors
7 ripstop colors
9 cleanable colors
Lite Tech offers a variety of fabrics, colors and patterns for its Xenolite aprons. Our fabrics are "non-stretch" or limited ("bias") stretch woven fabrics designed to circumvent de-lamination, as well as coating adhesion and wear issues.
We offer 5 fabric types as detailed below:
Solid color "Nylon" (Fabric # 01-10, 35 – 43)
200 denier nylon with light polyurethane coating
Solid color "Ripstop" (Fabric # 70-76)
300 denier nylon/polyester with light polyurethane coating
Printed Fabrics (Fabrics # 50-99, 00)
300 denier polyester with printed design and light polyurethane coating
Polyurethane-Coated Cleanable Fabrics (Fabrics # 22-29)
200 denier polyester with thick polyurethane coating
Coating includes antimicrobial additive
Rubber-Coated Cleanable fabrics (Fabrics # 61-63)
200 denier polyester with a thick coating of butyl rubber
Coating includes antimicrobial additive
Lite Tech offers 6 different colours of trim, these are:
Black
Silver
Hot Pink
Red
Yellow
Turquoise